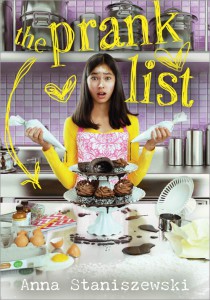 I must admit that the first reason I was drawn to Anna was her name. I've been researching books set in eastern Europe for years and have a love for names that take me there. Then I discovered she had written the picture book POWER DOWN, LITTLE ROBOT – which is brilliant. I was eager to see what she is doing for her newest MG so asked Anna to tell me about the inspiration for THE PRANK LIST.
The Scoop on THE PRANK LIST
by Anna Staniszewski
When the first book in a series comes out, the author often answers lots of questions about the inspiration behind the story. (The Dirt Diary, for example, was inspired by a piece on teen mortification that I heard on the radio.) It's less common to talk about the inspiration behind a second or third book behind a series, but I actually find that question fascinating. Often with a sequel you take the characters you already know and think of new misadventures for them. I always wonder: where do those ideas come from?
In the case of my newest book The Prank List, the sequel to The Dirt Diary, I wound up developing a few tidbits from the first book that stuck with me. At the end of Book 1, there's talk of the main character, Rachel, taking a pastry class at a local bakery. I started to wonder what would happen if Rachel got to the class she'd been dreaming about for years and discovered that it wasn't at all what she thought it would be.
The first book also featured Rachel learning to accept–and maybe even enjoy–working for her mom's cleaning business. What would happen, though, if her mom's business was suddenly in jeopardy thanks to a rival cleaning business? How far might Rachel be willing to go to save her family? That's when the idea of a "prank war" popped into my head. Not only would the concept open up a lot of comedic possibilities, but it would allow Rachel to make some seriously bad (and potentially hilarious) decisions.
Finally, I wanted to keep exploring Rachel's relationship with her love interest. Will he ever call her his girlfriend? What if the cute guy in her baking class asks her out–what would she do then? Since Rachel is a newbie to the whole dating scene, I wanted to play with the uncertainties and insecurities that go along with that. First relationships are so awkward; I knew I couldn't let Rachel off the hook too easily.
Ultimately, though, I think my inspiration for The Prank List was purely selfish. I'd had so much fun getting to know the characters in the first book that I just couldn't help tinkering with their lives a little more. Hopefully, they'll learn to forgive me one day. Maybe after the third book is out.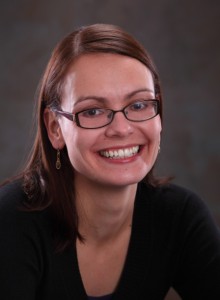 Born in Poland and raised in the United States, Anna Staniszewski grew up loving stories in both Polish and English. Currently, she lives outside Boston with her husband and their crazy dog. When she's not writing, Anna spends her time reading, daydreaming, and challenging unicorns to games of hopscotch. She is the author of the My Very UnFairy Tale Life series and the Dirt Diary series. Her newest book, The Prank List, releases on July 1st from Sourcebooks. You can visit Anna at www.annastan.com.